Looking for a hosting provider to run your website? Can't decide from the numerous available options?
Options confuse us. Of all the providers trying their hand in becoming our trusted companion, we just cannot be sure of what to expect from a provider.
To be honest, there are hundreds of options to choose from as host provider for websites. But the question arises: How to choose the right hosting provider?
Fear no more. This article will guide users that are looking for a reliable hosting provider and will tell in detail what they should look for in a provider – vital deciding factors.
So, lets begin and help you choose the right hosting provider for your website.
Technically speaking, while choosing a hosting provider, every user has their own requirements. You have to be observant of your needs to address this issue.
All in all, different scenarios need different solutions. Here are some pointers to contemplate on, just to observe what you want with your hosting provider.
Points to think about
First up,
Your Budget
Your Website Traffic and its potential growth
Web Providers level of scalability
Are you an amateur? Do you need support for every aspect of your website?
Now that you know what you need and what you are looking for; here are some suggestions of what you can categorize the providers into:
Customer Support
Speed and Performance
The potential of your web host
Uptime
Offsite BackUp & Recovery
Backup Frequency
Caching
Git Version Control
Built-In CDNs
Security Features
Physical location of data center
Another Question…
Do you even know what type of hosting to choose?
Presently, four different types of hosting services are available for all users. You can examine these types and choose the one that suits your needs.
Some hosting methods are more reliable, but costly. You must know what you want out of your hosting. To give you a good idea here is a brief description of the types of hosting.
Shared Hosting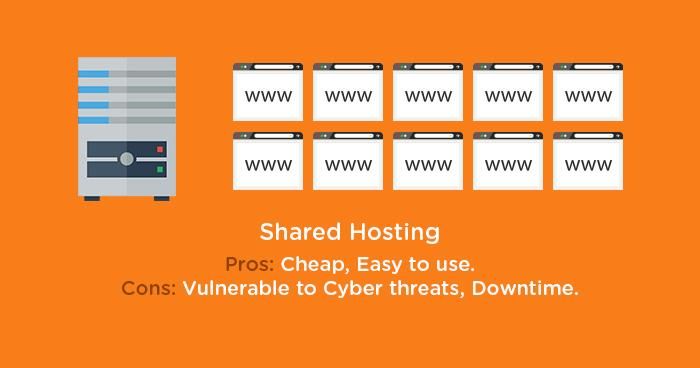 Probably the cheapest of them all. Shared hosting comes with configuration constraints. It is suitable for websites with less traffic and lesser consumption of server's resources. In shared hosting, your website is usually combined with tens of other websites, and with a single server working at the back end.
Shared hosting has a catch, well, as you know your website is hosted with some other website; you might face a downtime if the server gets overloaded. Yeah! Not good for you, I know.
What can you do now?
Simple. Upgrade is the name of the game.
Dedicated Hosting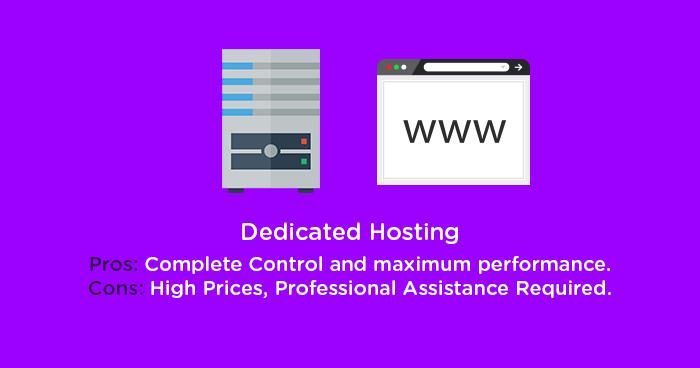 In dedicated hosting, a dedicated server is working to serve your websites need. A user enjoys full processing power and complete disk space. As a result, fewer chances of your website slowing down.
After all of this, we come to the price, which in fact, is very expensive. This type of hosting is for websites with extremely high traffic.
Managed Cloud Hosting
Cloud Hosting is possibly the best option for non-technical users because the technical side is not for you to worry. It is taken care of by the experts. With Cloud Hosting, you can work on making your site get more traffic while providers' technical side does the peculiarities.
A very vital aspect of Managed hosting is it's almost zero per cent downtime – guaranteed.
And when it is time to go bigger, you can easily scale it up. How cool is that?
VPS Hosting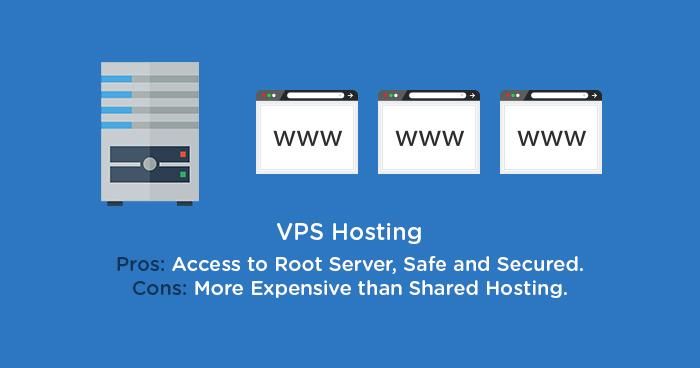 If you decide to host on a virtual private server, you enjoy resources from a partitioned server with your needs as the benchmark. A certain amount of disk space is at your disposal with defined memory and processing power.
Users have the root access and the authority to modify different components. Mind you, for these modifications; technical expertise is mandatory.
With most VPS hosting plans, you only pay for the resources that the website use.
That covers the type of hosting part. I was just giving you a recap. However, if you did not know it before, now you know.
There is another technological advancement that has taken over the world by a storm, Managed Cloud Hosting.
What is Managed Cloud Hosting?
Managed Cloud Hosting is similar to VPS hosting but comes with an extra benefit of scalability and speed.
Convenient examples of cloud hosting can fall under the categories of Infrastructure as a Service (IaaS) and Platform as a Service (PaaS).
But, choosing the right provider is also important. After all, all of this is depending on your provider's potential.
Three Features to Look out for In Your Hosting Provider
Performance & Speed
Speed and performance of your server depends on your provider. It is important to ensure great quality of service from the web host. The available memory (RAM), the processing power (CPUs) and disk space (HDDs & SSDs) plays a significant role in upping the ante of your server.
Support
Technical assistance is mandatory to look for in a hosting service. If you are not very familiar with the technical aspects of hosting, you will need help (often).
Find a web host who thinks about your business and provides complete technical assistance. You never know when it come in handy. Additionally, you would want a host that is providing you support on a 24x7x365 basis. Because, let's face it, you cannot afford a downtime for your website, and in case, if you do get one, you need someone to have it fixed.
Uptime
Uptime of more than 99% is the par. There are many hosting providers going under the 99% region. You may think all is the same, but a meager 0.1% can be devastating at times.
Look for a provider with a uniform uptime, you don't want your uptime to fluctuate. Trust me, you don't.
Finding these features in a hosting provider is not difficult, however, only a few providers deliver on what they promise. Here a few of the providers that have been delivering the best services.
DigitalOcean
DigitalOcean is a superior cloud hosting solution for web development beginners and those who want to avoid the intricacies of supporting their servers. A smart GitHub Collaboration sets you right at the driver's seat and getting started is easy.
DigitalOcean has some relatively cheaper plans than other providers; starting from $5 for a droplet (server in their words). It offers multiple Linux distributions, making DO a perfect solution for hosting. For a Windows-centric cross-platform developer, DigitalOcean serves the purpose ideally. With a solid uptime and multiple data centers, what else would you like?
Customer support is a little iffy, taking a while to respond. Well, nothing is perfect. They are working on it, though. There service more than covers up for that. However, if you are a marketer and want to focus on your marketing, rather than your server management, then I would advise you to look for some other provider or hire a system administrator.
Bitnami
Bitnami Cloud Hosting has the potential to simplify deploying and administering open source. Bitnami has easy one-click deployment, ready-to-run applications and a lot more. Users can also monitor their launched applications, giving a comprehensive picture of memory and disk usage. You can also monitor whether your database and web servers are functioning properly or not.
Bitnami also provides automated back-ups, You can schedule your server too. It is a Software-as-a-Service (SaaS) with a free tier. The UX may require a bit of a working as it is a bit complex to understand the usability.
Cloudways
Cloudways has given managed Cloud Hosting a new persona. After revamping the old interface, dubbing it as Cloudways 2.0, Cloudways has added some valuable features for its users. With 24×7 Customer support, CloudwaysBot – an interactive bot which reports for any new updates and upgrades, and one click wonders, Cloudways has been a pioneer of managed Cloud hosting.
It guarantees 1-click, real time operations and sports a database manager that help users to manage their database. Providing the option to host multiple web applications on cloud infrastructures from DigitalOcean, Vultr, Kyup, Amazon, and Google.
Cloudways has been a pioneer in Managed Cloud Hosting Industry with its revolutionary ideas and innovative approach.
Furthermore, here is a discount code "PANKOGUT" for a $20 Hosting Credit. Cloudways was generous enough to give all our readers a discount code. Grab the Code and Enjoy Cloudways Managed Cloud Hosting like never before.
Final Thoughts
Whatever package or provider you decide to choose, depends entirely on the type of website you want to host. If you have an ecommerce website, it is advisable to host on an auto-scalable, managed cloud hosting platform, so that you don't have to worry about a sudden traffic hike. If you are a developer, you can choose a developer friendly hosting. The options are indeed limitless now. It's all about the budget you have the nature of your business. However, make sure you keep the major touch points in mind – Uptime, Scalability, Server Management, Customer Support, and Performance & Speed – when deciding upon a hosting provider. You need to understand, every hosting provider is different and has it's own pros and cons. None of the hosting providers are perfect and are continuously evolving. You just need to find a solution that helps you achieve your long-term business goals and fits your pockets.