You got yourself in here because you have already chosen or bought a domain for your website. One of the main concerns of the newbies is hitting on the best WordPress Hosting plan.
What does hosting mean? A hosting plan offers you an online space on a server shared with other websites. You will need it to install WordPress as well. In this guide, I will show you how to save $50 for a WordPress Hosting for the first year of subscription.
There are many articles online about the best worldwide hosting available. I don't want to speak ill of the others. I am interested in making you understand that in this phase you need a little to start. As soon as you will have a successful blog with many daily visits, none of the plans I am suggesting to you here will be the right one. You will have to switch to a professional solution more appropriated to your needs. All the hosting gives you the possibility to migrate to an upper plan without driving yourself crazy. They take care of everything. You will just have to choose the right plan.
But this is not the main concern right now. I recommend you to spend as little as possible, but at the same time to choose a good product. I am used to writing about services I have tried myself. That's why I am going to talk about Dreamhost.
I have started to use Dreamhost back in 2009. I can consider myself an expert on their products. Unlike the other hosting services, the Dreamhost's team decided to create a unique and easy to use control panel. And that is already a plus.
Dreamhost allows you to share and resell your web space to your clients. And you can choose your own price. Of course, you will be in charge of the support.
Speaking of support, Dreamhost gives you 3 possibilities:
Open a ticket;
Access to the Live Chat;
Telephone contact in case of emergency.
I never had a negative experience with their support. I always find them ready to solve your problems or give you the right guidance to autonomously find a solution.
I know that you are here to know more about the $50 discount on the first year of subscription. You will just have to follow this link:
https://www.pankogut.com/go/dreamhost50off/
Once you have clicked on it, you can create your account. Here is a step-by-step procedure: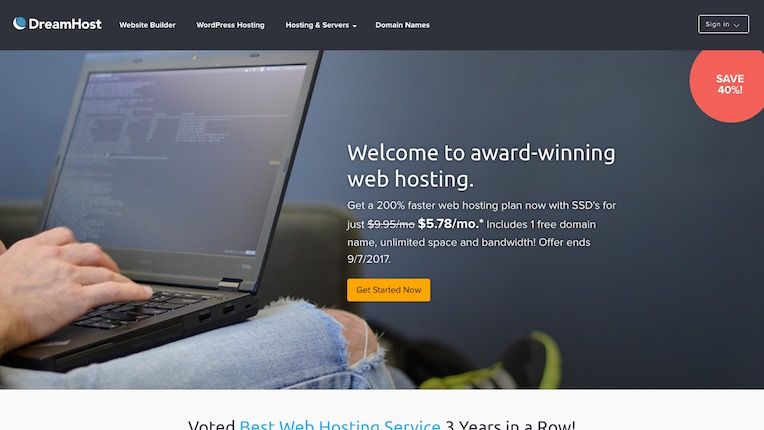 Click on Get Start Now on the Dreamhost homepage to start creating your first account.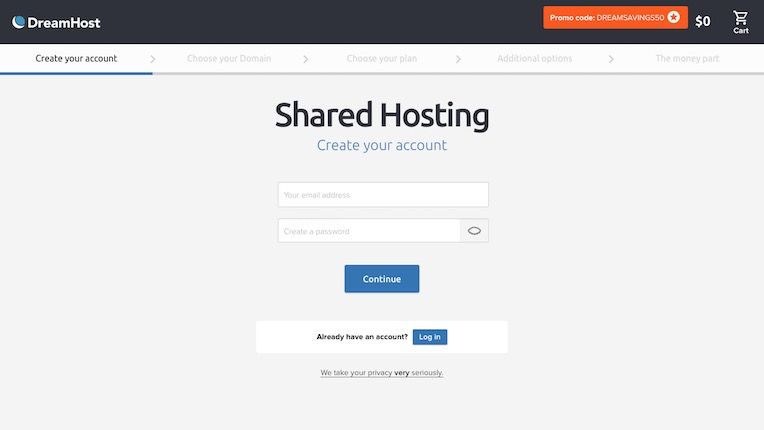 Choose an email and a password once you arrive on this screen. Click on Continue.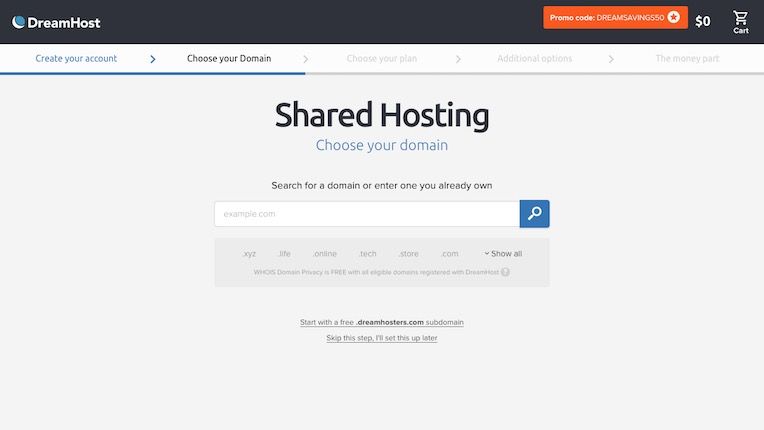 You have 3 possibilities before moving on:
Check for the domain to be registered with Dreamhost (included in the price)
Postpone the choice of the domain, beginning with a sub-domain like myname.dreamhosters.com and clicking on Start with a free . dreamhosters . com subdomain
Set up later the domain's name clicking on Skip this step, I'll set this up later.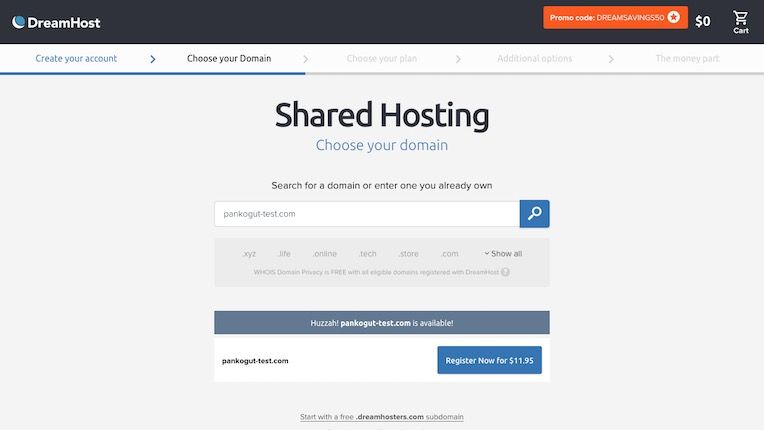 If you decide to immediately set up your domain, perform the research and click on Register Now for $11,95. Don't worry: you are not going to pay since the first domain is being given to you for free.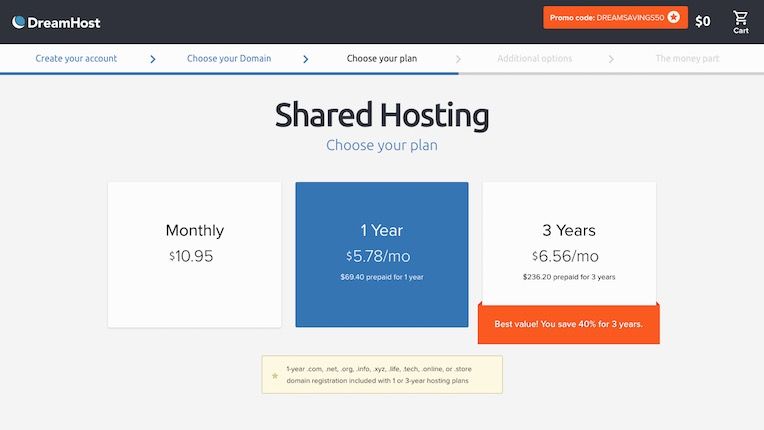 Now, you have to choose the hosting plan. You should start with the central, 1-year one. Click on 1 Year and then on Continue.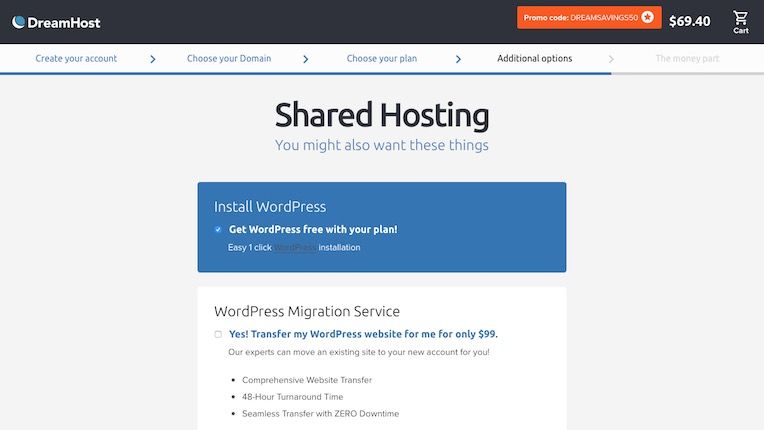 Dreamhost offers both free and paid services. I suggest you choose the first one – install WordPress. Now you can click on Continue again.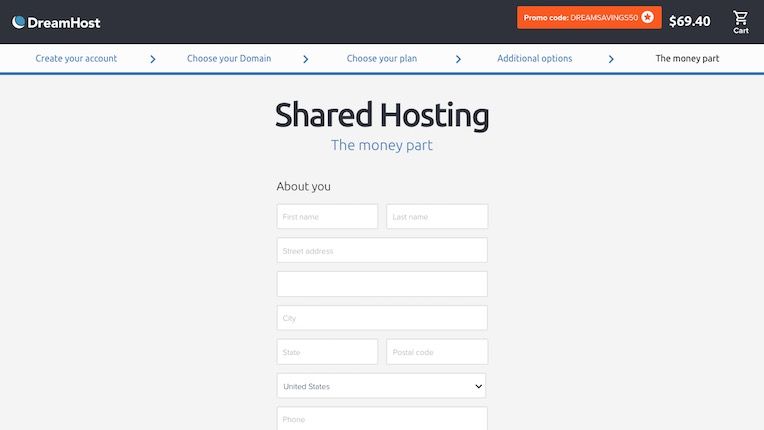 You are almost there. Enter your information and a credit card to pay for the WordPress hosting.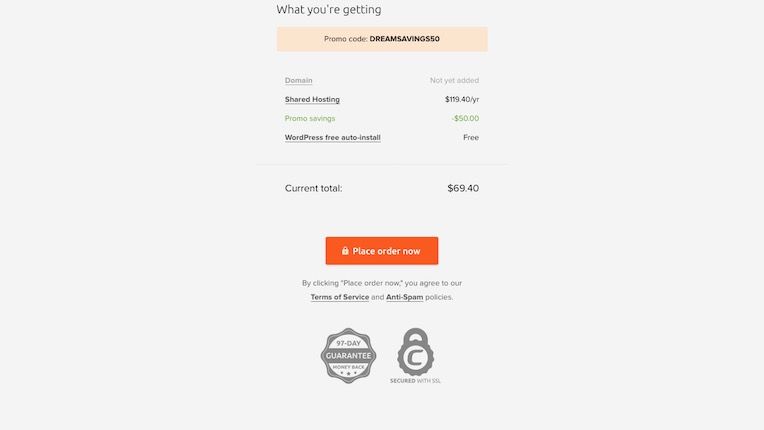 As you can see, thanks to my link you will pay just $69,40 instead of $119,40. Click on Place Order Now.
Congratulations! You get your first WordPress hosting and you save $50. To thank me for that, could you do me a favor? Please, share this guide with your social accounts. Thank you so much.