The "conversion rate" is calculated by dividing the number of visits by the number of completed and sent forms. This is important because it allows you to measure the efficiency of a specific page on your website.
A good "convertion rate" contributes to achieving your goals: for example, sell more or grow your email list.
Let's say that you have activated a promotional campaign on Facebook Ads that gets you 1000 people on your form page. With a better "convertion rate", for example 25%, you can convert 250 people.
Nice numbers, right? So, do you want to know how to achieve that?
How to improve your "conversion rate"?
WPForms has found a brilliant solution that is easy to apply to all your pages where you have used one of the plugin's forms.
The option is called Form Page. Simply go to the setting page of your contact form and activate the Form Page function.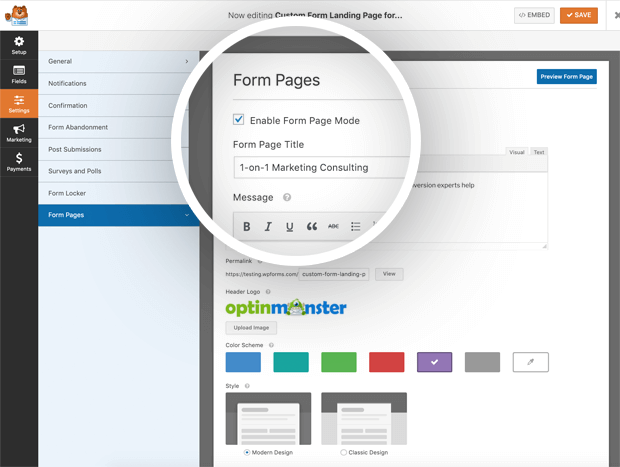 As you can see from the image above, you can upload your custom logo and customize colors and choose from various layouts.
Why the Form Pages by WPForms can improve your "conversion rate"?
Simple. Without distractions your potential client is encouraged to complete your form and click on the button "send".
You can see an example of how your landing page will appear on the WPForms website here: https://wpforms.com/form-pages-demo/
That's it!