Upgrading your wordpress theme to the latest version is highly recommended. You'll get latest features and you'll also be up-to-date with any security patches.
There are many ways to upgrade a wordpress themes. I'll explane step by step in this post two ways: with a third plugin or via FTP.
Update a WordPress Theme with the plugin Easy Theme and Plugin Upgrades
Step 1 – Install the Plugin
Go to Plugins>Add new
Search the plugin Easy Theme and Plugin Upgrades and click on Install Now.
At the end you can click on Activate.
Step 2 – Upgrade your WordPress Theme
Go to Appearance>Themes>Add new>Upload Theme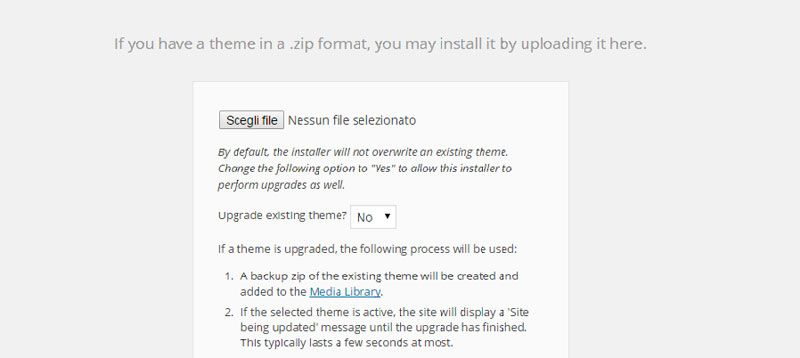 Now you have to choose Yes from the select Upgrade existing theme?
Click on Install Now, then on Activate.
Update a WordPress Theme via FTP
Step 1 – Download and Install FileZilla
Go to the website https://filezilla-project.org/ and dowload the last version of FileZilla Client.
Install it.
Step 2 – FTP Account
Go to your Hosting Panel and find your FTP account. You need the username and the password.
Open FileZilla and click on File>Site Manager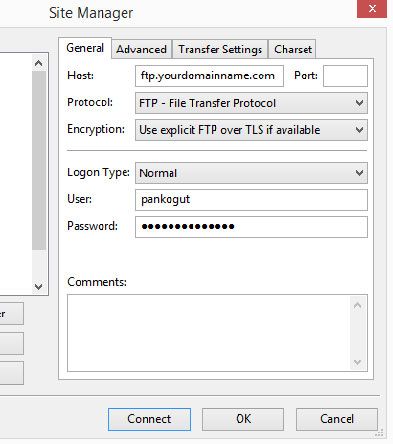 Add the following details:
Host: usually is ftp.yourdomainname.com
Protocol: FTP or SFTP
Logon Type: Normal
User: your username
Password: your password
Click on Connect.
Now you have two boxes.
On the left you have your computer. Go to the folder with the last version of your wordpress theme. It should be unzipped.
On the right you can see your hosting space. Go to the folder "…/yourdomain.com/wp-content/themes".
Now click with the right button of the mouse on the theme's folder and click on Upload.
That's it! Simple, right? Now you have your website updated.
If you like tutorials and other resources I suggest to opt-in to our newsletter.