That question that has been addressed to me for years. What is the difference between WordPress.org vs WordPress.com? Which one is the best solution?
Unfortunately, I have often received complaints from my clients because they could not load one of my templates on their wordpress website.
In most cases it's a blog on WordPress.com that doesn't allow you to install a premium theme purchased outside of WordPress.com
I therefore decided to write a detailed guide with the differences between the two platforms: WordPress.org vs WordPress.com
WordPress.org: Definition

WordPress.org is the home of the open source WordPress software that helps you to create a blog, a showcase website or an online store by installing it on your web space.
To use WordPress you need to buy just a domain and a web space where usually through the control panel, you can install the software with one click.
I have already written a guide that will help you step by step on how to create your first website with WordPress.
WordPress.org: Pros
I thought to make a concise and clear list of points in favor and against one or the other platform. In the case of WordPress.org below you will find the advantages:
The software is free and you are free to use it without limits;
Space unlimited;
The costs to start is cheap;
You can install both free and premium themes;
The same with plugins;
You can create an online e-commerce;
You can create a social network-style community with plugins like BuddyPress;
You can earn money with google adsense or other advertising networks;
You are responsible for your content and your media such as images, videos, etc.
In summary WordPress.org means greater flexibility and freedom of growth. It requires a small initial investment because you need a domain with a web space that will host your site and all your contents.
It's not a big issue because on internet you can find hundreds of step by step guides like mine, so you just have to read a couple of articles to learn even more than necessary to start.
WordPress.org: Cons
A brief summary of the disadvantages in case you decide to start with WordPress.org:
You have to make a small investment to use the free software. You need as previously written a domain and a web space. In this case I suggest you read my guide on how to save $ 50 the first year with Dreamhost;
You need to take care of updates. WordPress is now automatically updated while the themes and plugins have an automatic update button, so it's not a big deal;
You are responsible for backups, but there are plugins that allow you to make a daily backup and save it to your dropbox or google drive account. Moreover, most companies that offer web space guarantee daily, weekly and monthly backups for free.
WordPress.org therefore requires more responsibility on your part, which is quite normal in case you want to turn your passion into a real job.
WordPress.com: Definition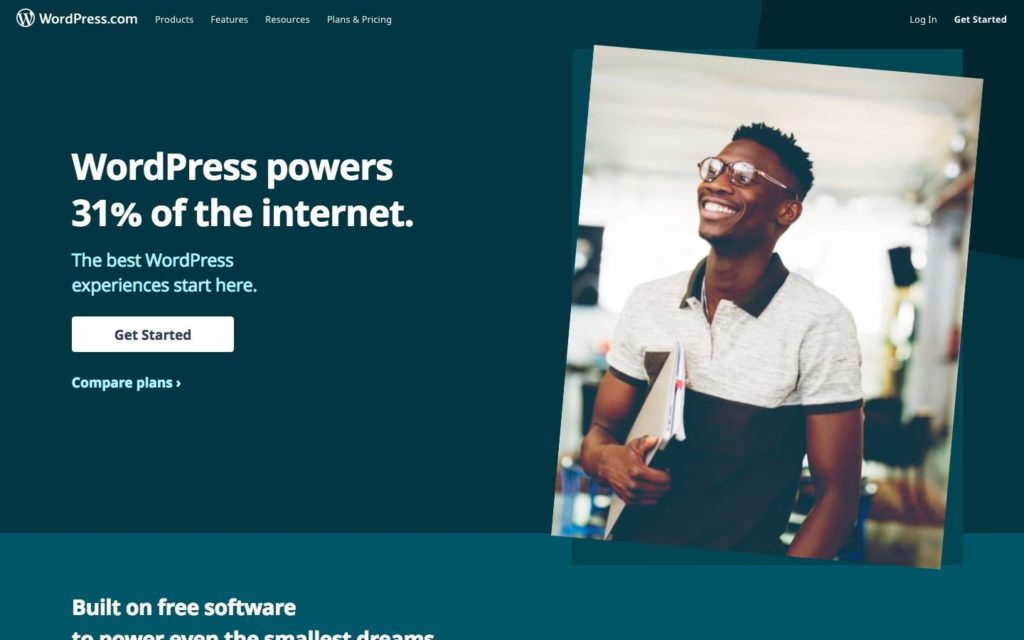 WordPress.com is a platform created by the co-founder of WordPress.org Matt Mullenweg. It's therefore based on the same free software I mentioned earlier. It's essentially a web space that allows you to start immediately with a free blog with limitations that you can remove by switching to one of the premium plans.
WordPress.com: Pros
WordPress.com has changed a lot in the last few years. On the web there are several guides that explain the differences between the two websites, but I found many errors. Below you will find a list of pros and cons updated to 2018:
You can start your first blog with a subdomain like mywebsite.wordpress.com for free;
You don't have to worry about updates and backups;
The control panel is very intuitive and easy to use.
WordPress.com: Cons
The following cons in choosing WordPress.com are for the most part passable if you switch to a personal, premium or business plan:
In the free plan you can't have your own domain without a personal one;
You can't install premium themes, but only free;
You only have 3GB of space which can only increase if you upgrade to paid versions;
You can't create an online e-commerce without a premium plan;
Your readers will see WordPress.com banner ads and you will not earn anything unless you upgrade to a premium plan;
You can't install google analytics;
You can't create a community or a website with areas only available to your members.
As you see WordPress.com has several limitations that you can only avoid if you switch to one of the paid plans. The best solution is the business one that costs $ 299 a year.
WordPress.org vs WordPress.com – Which is better?
At this point I try to give an answer to the initial question. Which one is the best solution? If you see your blog as a hobby and you have no money available to start an online business, I suggest you start with a free website on WordPress.com.
If you want to turn your passion into a full-time job, I suggest you start with a self-hosted website, then with your own domain and related web space.
Keep in mind that you will only need about $ 40/60 to start off with a website of your own, while to get the same flexibility on WordPress.com it takes you $ 299.
In case you need help, you can write me in the comments below.
Also I suggest you to read my complete guide on how to start a blog step by step.